How to Use Nipple Clamps and Suckers
Your nipples are two of the most sensitive and reactive parts of your body and it's well worth lavishing some extra attention on them during foreplay and sex.
Above: If you're thinking "forget how to use nipple clamps, why would I want to?!" just watch this video. Our resident bondage expert, Jess Wilde, gives you the low-down on all things nippy, including the lesser-known nipplegasm!
---
Above: If you're thinking "forget how to use nipple clamps, why would I want to?!" just watch this video. Our resident bondage expert, Jess Wilde, gives you the low-down on all things nippy, including the lesser-known nipplegasm!
A recent study used an MRI scanner to show that stimulation of the nipples arouses the sensory cortex in a woman's brain and in turn, arouses the genitals. Pretty cool. It's also thought that approximately 1% of women can achieve an orgasm through nipple stimulation alone.
If your nipples aren't receiving the attention they deserve, then investing in a sex toy designed for use on the nipples will help you experiment with different sensations. From gentle nipple suckers to sturdy nipple clamps which give you a firm but pleasant pinch, there are an enormous amount of nipple toys on the market and we're here to guide you through all the options available
---
Suckers, pumps, vacuums - whatever you call them, these nifty little sex toys suck the nipples like an eager mouth! Simply depress the bulb, place over the nipples and the suckers will stick in place using their strong suction.
When used for a few minutes at a time, nipple suckers increase blood flow and sensitivity and cause the nipple to feel engorged and more erect. Long term use of nipple suckers can permanently enlarge nipples and increase sensitivity to touch. If you have inverted nipples, nipple suckers can help to draw them out and make them super perky.
Top Tip: Having trouble making nipple suckers stick? Apply a small amount of personal lubricant to the nipple to help the sucker take hold, just like you might wet the suction pad of your sat nav!
---
Nipple clamps may sound scary and can look intimidating, but they're often a lot more gentle than you might guess them to be.
Designed to firmly grip the nipples, clamps produce a pinching effect which can be light and teasing or hard and intense, depending on your preference.
There are two kinds of clamp - adjustable and non-adjustable. If you're using nipple clamps for the first time, it's best to opt for a set with adjustable screws. This allows you to slowly adjust the pressure so it never feels too hard.
- Adjustable Nipple Clamps
The Lovehoney Tease Me Silicone Tip Adjustable Nipple Clamps are an example of adjustable clamps. Capable of giving you a mean nipple twister when at the tightest, just slide the dial down to get a more gentle pinching sensation.
If you really get into nipple clamping then you might like to try more advanced clamps such as the DOMINIX Deluxe Adjustable Bite Nipple Clamps with Chain. These clamps are more difficult to take off than other adjustable clamps and offer a nice, firm grip that won't budge.
- Non-Adjustable Nipple Clamps
Non-adjustable clamps such as the Bondage Boutique Advanced Clover Nipple Clamps offer just one level of stimulation. These clamps, sometimes referred to as 'clothes pin clamps', operate on a spring loaded system and are often designed to exert maximum pressure.
Magnetic nipple clamps are another form of non-adjustable clamp. They use magnetic force to close the clamp around the nipple and exert a pinching pressure that squeezes the nipple from either side.
---
Vibrating Nipple Clamps
You don't always have to opt for a harder pinch to accentuate your nipple clamping pleasures. Vibrating nipple clamps add a whole new dimension to nipple play and offer hands-free stimulation to enhance your pleasure.
Something like the Fifty Shades of Grey Sweet Torture Vibrating Nipple Clamps are a great place to start.
---
Nipple Tweezers
Similar to nipple clamps, nipple tweezers like the DOMINIX Deluxe Adjustable Tweezer Nipple Clamps pinch the nipples in a more concentrated and intense way, thanks to their smaller size. They usually have rubber tips to protect the skin from sharp edges.
If you have small nipples then the Lovehoney Tease Me Silicone Tip Nipple Clamps are ideal because of their size and weight. They also have a more decorative and non-threatening look to them so are great for beginners.
The level of pain produced by nipple tweezers can vary from mild to intense. They usually feature an adjustable slider ring which you can push up towards the tips of the tweezers to hold them closed at just the right pressure.
---
Nipple Weights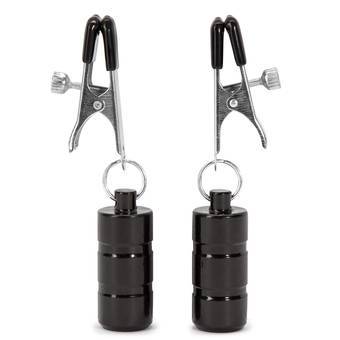 Only for the well initiated, nipple weights can be linked on to a set of clamps to increase the pressure and pain levels experienced during wear. Some clamps, like the DOMINIX Deluxe Weighted Nipple Clamps, come with weights already attached. The feeling is similar to having the nipples pulled and can be very erotic during solo or partner play.
Mainly used by those interested in BDSM, nipple weights range from 2 ounces all the way up to 10 ounces for a really hard and heavy pull.
---
Need more help?
You can Contact Customer Care, who will be able to help you find the perfect bondage gear. You can email, telephone or live chat to an experienced advisor 24/7.
Contact Lovehoney Customer Care
---
You may also like: