Beginner's Bedroom Bondage Techniques
When most people think of bondage, they think of a man or woman being chained to the bed posts with a set of furry handcuffs. Although this is a fun way to get into tie-up fun, there is a lot more to enjoy and explore when it comes to bondage.
Bondage can be used to pull parts of the body together, spread certain limbs, fix your body to another object or even create the effect of mummification.
Whatever you want to try, bondage is a sure-fire way to broaden your sexual horizons, spice up your bedroom antics and increase your repertoire of sexual and sensual techniques.
Above: Perfect for everyone from beginners to professionals, bondage tape is one of our most popular types of restraint. Want to know why? Just watch this video and let Jess Wilde give you 5 reasons why you should try it!
---
Technique #1: Cuff me up, officer!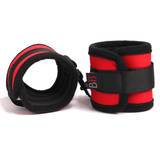 It might sound obvious but handcuffs are a great way to get into bondage play. Whether you've got a police officer and naughty criminal fantasy or you just love the feeling of being restrained, handcuffs will give you a feeling of being powerless while still having the ability to move.
One of the most basic bondage techniques is to cuff your partner when they're lying down on the bed. Cuffing them so that their hands are attached to the bed posts will elongate their body, allowing you to teasingly explore every inch of their skin.
Alternatively, get your partner to sit on a chair and cuff their hands behind their back. This will allow you to do exactly as you please, without them being able to touch - great for naughty lap dances!
---
Technique #2: Bound by love
Cuffing hands together is lots of fun but why leave other limbs out of the action? Using various different restraints, you can bind ankles to ankles, wrists to ankles, necks to wrists and even fasten all your limbs together, hogtie style!
A great way to experiment with different types of restraint is to invest in some Tease by Lovehoney Bondage Tape. This can be used on all body parts and once you find a type of binding you like, you can then buy the specialist equipment.
The Purple Reins Beginners Restraint Harness is great for those who enjoy being pinned in position but like having their legs free to wrap around their partner! This clever piece of kit even has multiple D-rings so you can choose the precise position that your prefer most.
If you like to be completely at your lover's mercy, the Bondage Boutique Intermediate Soft Velvet Hogtie will give you that great sensation! A great way to use these restraints is to attach them whilst your partner is kneeling up on a soft surface. The fear of leaning too far forward and falling is erotically exciting, especially when they realise that you're in control of their balance...
---
Technique #3: Spread 'em!
Bondage also involves restraining limbs away from each other as well as pulling them together, and the best way to do this is with a spreader bar. Available in lots of different sizes, spreader bars keep your limbs wide apart so you cannot flinch or prevent access to your body.
A brilliant technique for getting the most out of your spreader bar is to try it in different positions. Standing up with a spreader bar makes walking difficult and can be used as part of a kinky discipline scenario. Using a spreader bar whilst lying down creates a sexy medical atmosphere, which works great when teamed with a doctor or nurse outfit.
If you want to start off small, why not invest in a restraint kit like the Bondage Boutique Almosta 4Posta Set or the Bondage Boutique Over-The-Door Position Restraints?
---
Technique #4: Mummy?!
Full body bondage may sound scary but it can be very erotic, when done correctly.
For beginner's, Tease by Lovehoney Bondage Tape is the way forward. This stretchy PVC tape can be wrapped around the body, from top to toe, allowing you to be totally mummified! But be careful - things can heat up very quickly so make sure to take a break when you start feeling a little too warm.
If you fancy being a bit more adventurous, invest in some Shibari Bondage Rope. This can be used to restrain every part of the body and can be very beautiful when tied correctly. Shibari rope creates a feeling of constriction and can be tight on the skin, so make sure to avoid cutting off blood circulation. Read our guide to Japanese Rope Bondage for Beginners for information on how to get started with bondage rope.
---
Technique #5: Advancing action
If you've already done the restraining body parts thing and you're looking for something a little kinkier, why not try bondage that also involves some sort of sensory deprivation?
A ball gag is a kind of bondage equipment that holds the mouth open and prevents your partner from speaking. A scenario to try out with a partner in a ball gag is the 'silent interrogation'. Tie them to a chair and slip the ball gag in their mouth, then 'interrogate' their body by teasing it with a feather tickler or wartenberg wheel - if they make a noise, you give them a soft spank to remind them not to be so naughty!
Alternatively, why not invest in a blindfold or mask? This will prevent them from peeping and seeing what kinkiness you're going to indulge in next!
Important note: No matter what type of bondage you are doing, make sure you have a safe word and that you stop whatever you are doing as soon as it is said. It's a good idea that you both read up on Bondage Safety Techniques before play.
Kick-start your bondage adventures with our best-selling bondage accessories
---
Need more help?
You can Contact Customer Care, who will be able to help you find the perfect bondage gear. You can email, telephone or live chat to an experienced advisor 24 hours a day, 7 days a week.
Contact Lovehoney Customer Care | Visit The Lovehoney Forum
---
You may also like: