How to Use Female Orgasm Boosters
For most women, the key to orgasm is direct stimulation of the clitoris. Packed with nerve endings and a one-track mind for pleasure you'd think giving the clitoris what it wants would be easy? Unfortunately, many of us know from experience that just isn't the case. But don't worry, help is on hand!
Orgasm boosters are effective and easy to use. Simply apply to your favourite spots before playing with a toy or lover and you'll soon feel a growing tingle that makes you more aware of your body and heightens your sensitivity to touch.
[[video:1533:width=700:centre]]
Types of Female Orgasm Boosters
Orgasm boosters come in the form of gels and balms that can be applied to your clitoris, labia, nipples, or anywhere else that needs a boost. With an orgasm booster working its magic, you'll soon reach a more intense and satisfying climax. Orgasm boosters also come in the form of supplements you can take.
Orgasm Gels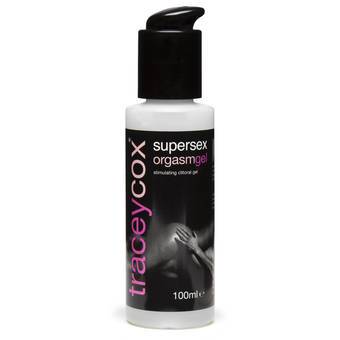 Orgasm gels are perfect if you want a silky, smooth liquid to slip over your clitoris. Often containing menthol for an instant tingle, orgasm gels also use arginine, which is a natural ingredient that increases blood flow to plump your clitoris and increase sensitivity. Easy to apply, these orgasm creams combine instant wow-factor with a slow-burning sensual boost. The sensation can last anywhere between five and 30 minutes, depending on how much you apply, but remember that a little goes a long way.
Tracey Cox Supersex Orgasm Gel
is infused with menthol to create a pleasant tingle, reduce time taken to reach climax and intensify orgasm. Apply a little dab of this before sexy for an indulgent pre-play ritual.
Clitoral Balms
Clit balms are little pots of magic and because they look just like a lip balm in your bag, they're a great way to play on the go. Combining tingling menthol and peppermint with rich moisturising ingredients (such as almond oil, coconut oil and shea butter), clit balms nourish as well as please. For a quick-fix way to add a sensational spark, these clit balms last 5 to 15 minutes depending on how much you apply.
A favourite clit balm for beginners, the Lovehoney Bliss Orgasm Balm is cute, portable and discreet. This balm uses natural, nourishing oils to make your nerve endings tingle and increase blood flow wherever you apply it. Apply to your favourite spots before playing with a toy or lover and boost your passion potential.
Tingling Lubes
If you find you enjoy the tingling feeling a clitoral balm gives and want that sensation over a larger area, a tingling lube such as the ID Pleasure Tingling Sensation Lubricant 65ml will be ideal for you.
As a 2-in-1 product, you'll also be able to use this as a personal lubricant to slick up sex as well as add a tingling kick. Some people find the level of stimulation given by a tingling lube too intense, while others can't get enough of the cooling sensation!
Arousal Enhancement Supplements
Sometimes known as 'little pink pills', instead of being applied directly before you want them to enhance your clit stimulation, supplements have to be taken with water at least one to two hours before getting head or engaging in sex to kick-start your clit.
A formulation of herbal extracts and natural aphrodisiacs, supplements may help enliven and maintain sexual vigour, vitality and performance for women. Most supplements help female arousal by stimulating blood flow, energy levels and sexual arousal.
Need more help?
You can Contact Customer Care, who will be able to help you find the right orgasm booster. You can email, telephone or live chat to an experienced advisor 24/7.
The other great place to look for people's advice on female orgasm boosters is on the Lovehoney Forum, where our community is on hand to give their opinions and tips.
---
You may also like: