Sexy Festival Outfit Guide: Rainbow Raver
Get the Colour Pop look this festival season, with our sexy lingerie pieces and accessories.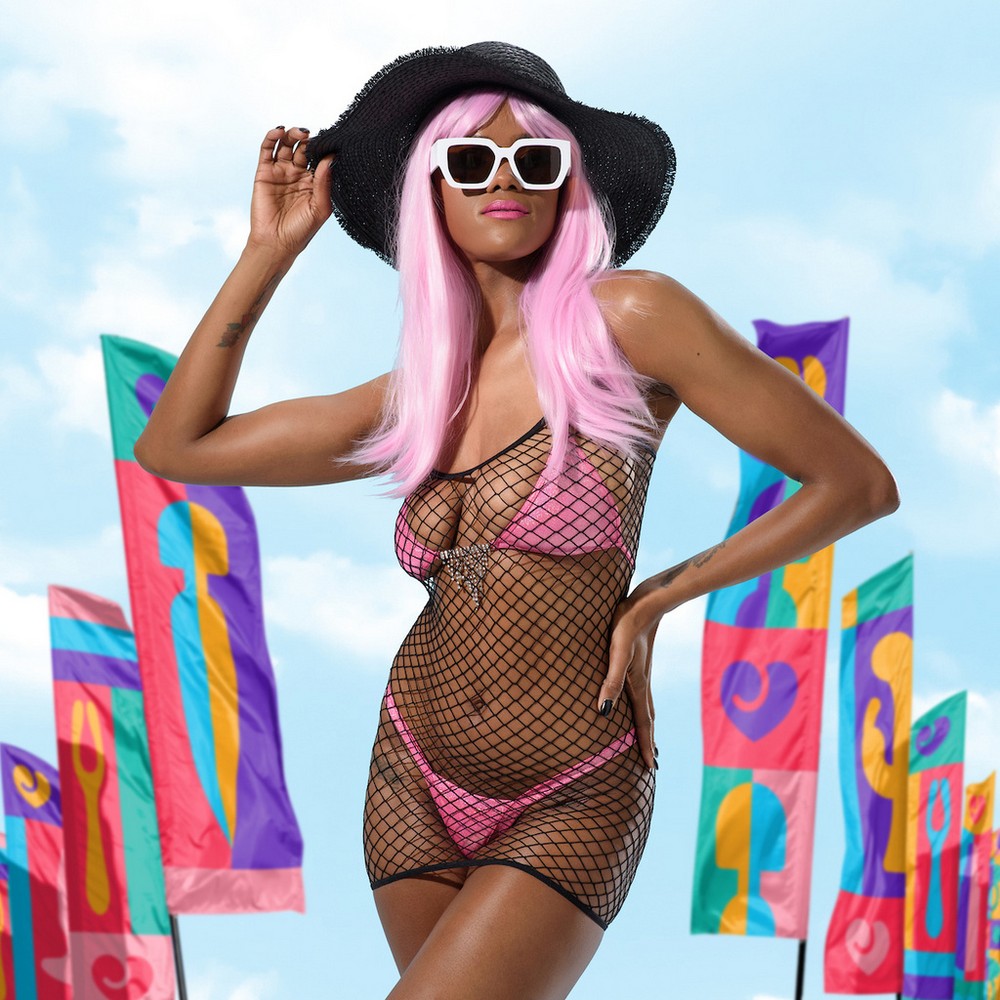 Tent packed, booze stashed, line-up memorized - it's almost go time. The most magical time of the year is here again, it's Festival Season, baby.
While you may already have every outfit planned and already laid out to pack, it never hurts to have a few more sexy options to show off at the main stage.
Luckily for you, our lingerie and costume collections are a one-stop shop for daring festival styles. In this blog we show you how to create a colourful, eye-catching festival outfit using Lovehoney Lingerie.
The Future is Brights
Hey, we love black as much as the next guy, but when it comes to living it up at a festival bright pops of colour are where it's at.
We're obsessed with this turquoise mini dress and can pretty much guarantee you will snog a rockstar if you wear it to your festival of choice. While it may seem a little too spicy to wear out in the open, layering it over equally bright hot pants and a bikini top leaves a little more to the imagination.
If pretty in pink is your MO, look no further than this gorgeously flirty pink bra set. Not only will the flowing fabric catch eyes in the dance tent, but the lace hearts just scream 'party back at my tent.'
Of course, if you can't resist a wee bit of black, you can still work the colour pop trend while catering to your appreciation for the dark side. Try pairing our Mindful ECONYL® Fishnet Long Sleeve Top with a pair of brightly coloured high-waisted knickers and a matching bra. Will it be a daring look? Sure. Will it be showstopping? Absolutely.
Dare to Bare
The beauty of festival fashion is it pays to be daring. While wearing just a plunging bodysuit to the grocery store may be frowned upon, for a festival it's practically the uniform.
Check out this Baby Blue Halterneck Lace Teddy. While its booty-baring thong back may not be suitable for the faint hearted it's utterly perfect for those who love that nearly naked look. We think it'll look great paired with fishnet tights, chunky boots, and a faux fur coat.
It's All in the Accessories
We've said it once and we'll say it again: A colourful wig is a must-have for a festival. Not only do they effortlessly add glamour to your look, but they're perfect for covering un-washed festival hair.
Next, you simply need a good supply of biodegradable glitter to bring sparkle to your looks. When it comes to glitter and festivals more is more, so don't be shy.