Beginner's Guide to Pegging
In recent years, pegging has taken the sexual world by storm. Pegging is when a woman uses a strap-on harness and dildo to anally penetrate a man, and indulge in female-male strap-on sex. Pegging allows all these little sweet spots to be accessed and enjoyed to their full potential, which many men struggle with on their own.
As more men become comfortable with their sexuality and start exploring anal play for themselves, it makes sense to invite a partner to help you explore every inch your body, including areas once thought of as 'out of bounds'.
The prostate gland is a special part of a man's body that is directly linked to his penis and testicles, which means that by stimulating this round nub, located around 2 inches in on the front wall of the anus, it will directly affect the rest of his genitals and result in some explosive orgasms.
But don't forget, women get pleasure from pegging too! Using a strapless strap-on such as the Tracey Cox Supersex Rechargeable Strapless Strap-On Dildo Vibrator provides her with incredible internal sensations.
Above: Watch Sammi Cole tell you all you need to know about strap-on harnesses.
How to Bring it Up
Pegging can be a difficult topic to broach with your partner, but a conversation about it is the starting point. The term pegging may need explaining to them (not everyone is au fait with it).
Once you have explained exactly what it is to them, ask them what their thoughts are on it. Be honest about why you're keen to try it - it could be out of curiosity, the element of submission and domination involved with pegging that many find enjoyable, or simply because there are thousands of pleasure-seeking nerve-endings in the anus and you'd like to introduce him to those new, orgasmic sensations.
What if you're a man who wants to broach pegging with a female partner? The same applies. It could be an equally daunting or exciting prospect to them. Women doing the penetrating part of sex is still a taboo act for some people to get their heads around, so approach it gently, with honest communication and respect whatever their reaction is to your suggestion.
Your partner may need time to consider whether it's something they'd like to do, or they may not be into the idea at all. Whatever the outcome, respect it.
They may wish to ease into it if they have never had their anus touched eg. use plenty of lube and stimulate them gently with your fingers or a small toy to get them used to that area of their body being touched - for many it is an undiscovered part of the body when it comes to deriving pleasure from it.
Pegging Essentials
You and your partner will want to decide between you what products you want to use but the bare minimum will be a strap-on and a water-based anal lubricant.
When it comes to strap-ons for pegging play, you've got two choices: the standard jock-style strap-on harness or the strapless strap-on.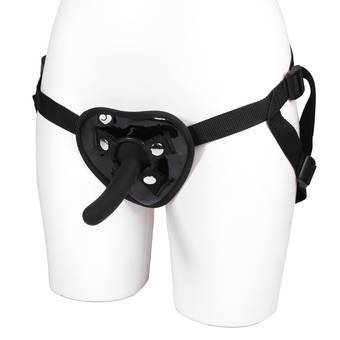 The Lovehoney Beginner's Unisex Strap On Harness Kit with 5 Inch Pegging Dildo is great for pegging as the jock-style straps sit securely on the body, allowing for a greater, more controlled thrust. It also comes with a small dildo that is perfectly shaped for locating and stimulating the P-spot.
Alternatively, you might like to use a double strap-on, such as the Lovehoney Double Delight Vibrating Double Strap On. This clever gadget will stimulate her G-spot and his prostate at the same time, thanks to the opposing ends that are both designed for internal use. However, you might want to save this one for when you're feeling more confident with pegging as it is a tad large!
Choose something you both like and that fits your needs. A strap on harness with an O-ring that lets you change dildos, like the Lovehoney Advanced Unisex Strap On Harness Kit, is a wonderful option as it lets you customise your fun.
If you're new to anal play you will want to choose a small strap on dildo, however if you've explored anal play before and would like something a bit bigger, you can easily try a larger attachment without having to buy a whole new kit.
A selection of the most popular strap on kits and strap on dildos
How to Peg
Start with a little anal foreplay, exploring the area with lubricated fingers and maybe a small butt plug. Stroke, tease, massage and tickle the anus, making sure you're both relaxed and warmed up.
Then add lots of anal lubricant to the strap-on and position yourself ready for action! A great lubricant for pegging is the fantastic Lovehoney Discover Water-Based Anal Lubricant. It's thick, it's silky and the bottle is fairly standard, so it won't stand-out like a sore thumb on your bedside table. It also has the added bonus of a high glycol content, which means that it will feel natural and last for ages too.
Many people prefer to be bent over doggy style but others prefer to lie on their back with their legs raised, making it easy to access the anus. Feel free to explore and find what is comfortable for you.
Penetration should only begin when you're both happy and ready. Ease in slowly, letting the male control the depth and speed, and be ready to stop at any moment. Once the sphincter is used to being stretched and your partner is comfortable, you can start thrusting and having some real fun!
Things to Remember
Remember to reapply lubricant whenever necessary!
Start small and work your way up - you don't want to terrify your partner by wielding a huge dong at them for their first pegging adventure.
Slow and gentle - diving in, strap-on first, will only lead to problems so make sure you take your time.
Communicate before, during and after to avoid any unwanted surprises. Talk about what you're going to do, ask if they're enjoying it or if they'd like you to go slower, faster or even stop altogether, and be sure to have a post-peg chat to see if it's something you both want to do again.
Want to find out more?
---