How to use a Bondage Collar
A bondage collar is much more than an edgy fashion accessory. In this guide, we show you how to use one to enhance restraint play.
Collars are the ultimate visual symbol of submission and control. They are often worn in the bedroom (or fetish club) by submissive partners to indicate their position.
If you're in the market for your first bondage collar, you've come to the right place. In this guide, we'll talk you through what you need to consider before making your purchase and how to get the most from your collar in a safe and sexy way.
Why do people use Bondage Collars?
Some people enjoy collars purely for their aesthetic quality, but there are plenty of reasons to add a collar to your playbox:
1. Wearing a collar with lingerie is an easy way to add fetish glamour to your look.
2. Some collars feature O-rings or D-rings, which allow you to attach your favorite bondage accessories.
3. Bondage collars are ideal for role play scenarios, like puppy play. Attach a leash for even better doggy style realness.
4. Bondage collars with O-rings are perfect for attaching wrist or even ankle cuffs for full-body restraint.
5. Putting the collar onto your lover is an incredibly intimate and dominant act, one which serves perfectly as BDSM foreplay.
Different types of Bondage Collar
The range of collars out there is huge. Lovehoney has such a fantastic variety that you may struggle to make a final decision.
The best place to start is by considering what you want to use your collar for. You may like it for role play, or you might be a fan of school-style discipline. Either way, you'll want a collar that fits the scene and the mood.
Here is an easy overview of the main types of bondage collars on the market:
O-ring collars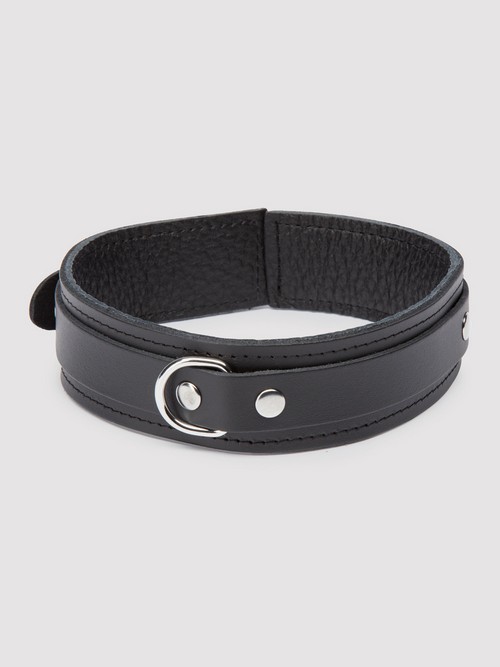 Versatile and easy to use, these are often fitted with buckles or Velcro fastenings at the back, with an attached O-ring or D-ring to the front. This allows you to attach cuffs, leashes, or rope for a suitably submissive look and feel.
Clamp and collar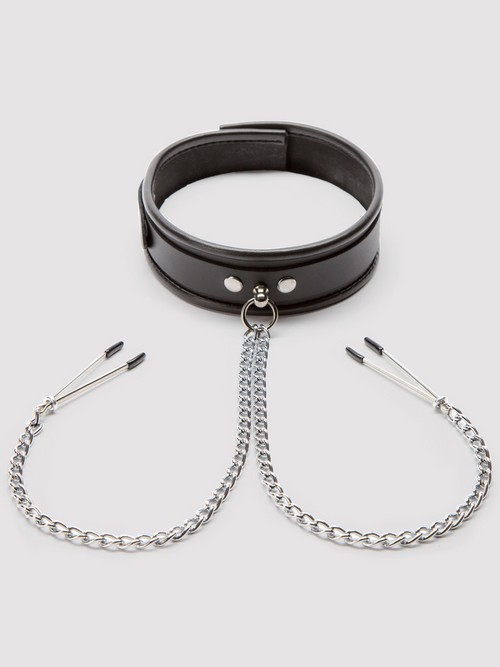 A clamp and collar set is a great way to experiment with the more fetish-driven side of collar wearing.
A series of chains with nipple or clit clamps are attached to the end of the collar, which restricts the movement of both the neck and body.
Leash and collar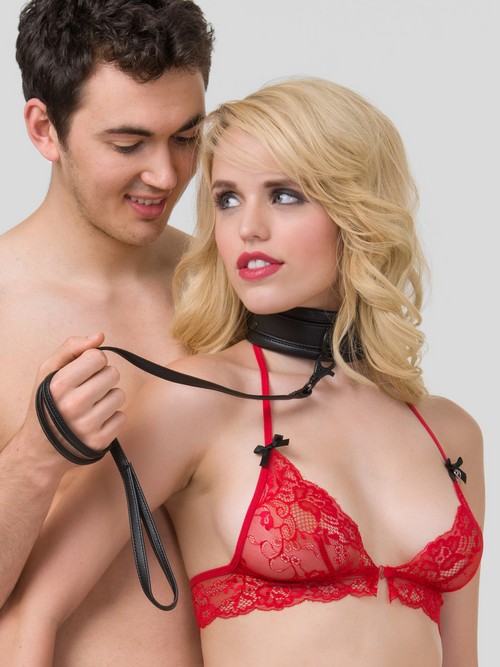 Finding the perfect fit
Getting your collar to fit well depends on two things: measuring and fastening.
Before you buy a collar, use a flexible tape measure (like the ones tailors use) around the widest part of your neck to figure out the circumference. A bondage collar should sit just above your collarbone, so this is the part you should measure.
Take a note of the measurement and compare it to the maximum and minimum sizes on the product page. If the circumference of your neck is similar to the sizes listed, you have found the right collar for you.
If your size is not listed on the product page or you are barely within the sizes mentioned, it might be better to err on the side of caution and find something that gives a better fit.
Choosing the right material
Leather is a popular choice for collars because it's durable, long-lasting, and it smells fantastic. A genuine leather collar like the DOMINIX Deluxe Heavy Leather Collar is perfect for anyone who loves the luxurious feel of leather against their skin.
However, some people find the stiffness of real leather quite claustrophobic. Similarly, if you're vegan, then leather might be the biggest turn off possible. In that case, faux leather options like the Bondage Boutique Intermediate Faux Leather Collar and Leash are ideal.
How to wear a collar safely
Once you have ordered your brilliant bondage collar, it's time to fasten it correctly. Whether your collar uses Velcro, buckles, or poppers, it's important to ensure that it fits comfortably and safely.
Fasten your collar in front of a mirror or, better yet, get a partner to do it for you.
Your head should be upright and facing forwards, and your neck should be straight. Once you have wrapped it around, tighten the collar slowly, making sure you can still breathe and swallow.
When you think you have the tightness right, try to slip two fingers under the collar all the way around. If you are unable to do this, then your collar is too tight.
Never over-tighten a collar. Make sure that you stop as soon as you feel any discomfort. It could just be the collar chafing, which you can prevent by applying a little moisturizer to your neck. Or it could be indicative of something more serious.
Do not pull sharply on any collar or leash. Although you may think that your sub can handle it, a firm tug can cause serious damage and even whiplash.
Always remember and use your safe word when needed. It could be the difference between a fabulous BDSM experience and a terrible one.
Recommended Bondage Collars
Other Bondage guides you may like
More Sexual Happiness Advice
You can never know enough about sex, right? Why not join us on our sexploration journey? Stay up to date with the latest advice on our blog, the Lovehoney forum and the weekly Sexual Happiness podcast.