How to Choose a Strap-On Harness
Strap-ons are a great sex toy for couples. They allow you to penetrate your partner, while keeping your hands free for, ahem, other endeavors.
We've come a long way since your only option for strap-on play was a dildo attached to a little elastic strap. These days, when people talk about strap-ons, they usually mean strap-on harnesses and strap-on kits.
A strap-on harness treats the wearer to premier comfort and control, ensuring they can focus on giving the most pleasure to their partner. Most of the time, you can also switch dildos in and out of a harness so you can even experiment with a whole range of toys.
But to get to the fun of wearing a strap-on harness, you need to get one that fits.
How to Choose a Strap-On Harness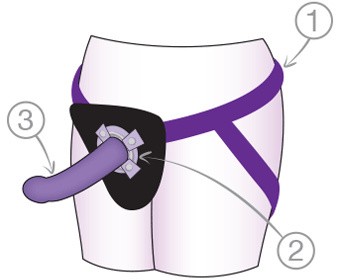 To help you choose the best strap-on, it's important to understand how a harness is put together.
A strap-on harness is generally made up of three main parts:
Harness The strap-on harness itself, which usually has a padded front section and a series of adjustable straps that you step into and then adjust at the waist and/or the legs. They might also be fashioned to look like underwear.

O-ring Either a fixed hole to put dildos through, or an interchangeable O-ring that attaches to the harness. Most kits have multiple O-rings included.

Dildo A harness dildo that fits the hole or O-ring. A strap-on kit usually comes with at least one dildo to get you started.
If you're new to strap-on sex, take a look at some of our top sellers below. These options all include a harness and a compatible dildo - everything you need to get started!
Top Beginner-Friendly Strap-On Kits
O-Rings Explained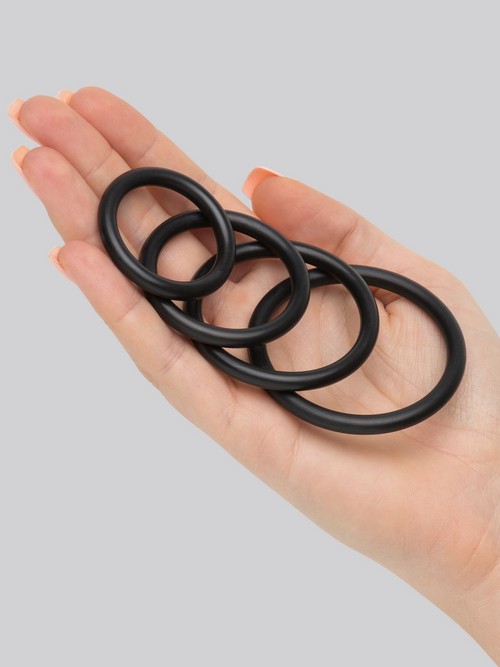 You'll probably have an idea of the sort of size dildo you want to use in your harness. The diameter of the hole or O-ring dictates how big or small a dildo your harness will hold.
The bigger the O-ring, the bigger the dildo it will fit (and vice versa)!
If you're a begginer to pegging (anal penetration using a strap-on), you'll probably want to start with a very slimline dildo to get used to the sensations. If that's the case, go for a harness with a 1.25 inch O-ring like the Lovehoney Beginner's Unisex Strap-On Harness Kit.
This kit is great because the 1.25 inch lets you start small, but the other two included O-rings let you progress quickly to something bigger. It's all the flexibility to play around with different sizes without the need to buy a whole new harness, score.
If you or your partner are more experienced at being penetrated (vaginally or anally), make sure you pick up a harness with a 1.5 inch, 1.75 inch or 2.0 inch diameter O-ring so you don't need to shelve your favourite big dong.
Speaking of big ol' dildos, here's a variety to choose from, in case you need a new friend - just make sure your dildo of choice has a suction cup or flared base so it'll fit in your harness.
Basically, if you go for a harness with an interchangeable O-ring, you'll get maximum versatility.
If you choose a harness that doesn't have an interchangeable O-ring you can only use dildos that fit snugly in the ring supplied. If you want to go bigger or smaller you will have to buy a whole new harness rather than just changing the O-ring and the dildo.
So, if you plan on using lots of different dildos and accessories with your harness, choose one where the O-ring (as well as the dildo) can be changed. Although the up-front cost may be a little more, you're giving yourself a lot more choice.
Here's a quick chart showing a selection of strap-on harnesses and kits you can pick up, plus whether or not their O-rings are interchangeable, and what size(s) of O-ring is included.
Strapless Strap Ons?!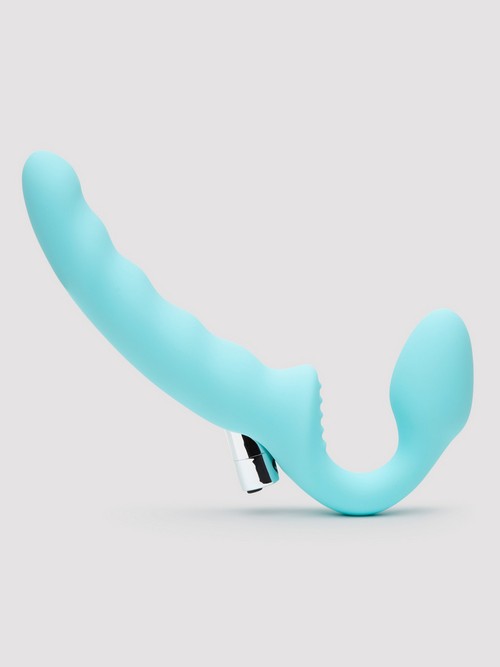 If you think all this harness and O-ring and dildo stuff sounds like way too much trouble, there's still another option for you to enjoy strap-on sex.
Strapless strap-ons are exactly what they sound like. With one of these, you can get a greater sense of closeness while having sex with your partner, as there are no straps to get in the way.
One end of the strapless strap-on is worn inside your or your partner's vagina, and the longer end is used for penetration. Strapless strap-ons are great for both vaginal and anal penetration, but they tend to be quite large in length and circumference, so only dive in if you know you can handle it.
More Sexual Happiness Advice
You can never know enough about sex, right? Why not join us on our sexploration journey? Stay up to date with the latest advice on our blog, the Lovehoney forum and the weekly Sexual Happiness podcast.