How to Use a Penis Pump - And, Does it Work?
There are many conflicting views on whether a penis pump can actually help with erections and penis enlargement. In this guide we will find out all the facts on vacuum devices, plus show you how to use one safely and effectively for your desired result.
Get ready to pump it up!
What is a Penis Pump?
A penis vacuum pump is a non-medical device used to treat erectile dysfunction (ED), which is the inability to get or keep an erection long enough to have penetrative sex. While they help you get hard and stay hard, they are also used to increase penis size or just for simple pleasure during masturbation.
They all have a similar design. They consist of a plastic tube that fits around your penis which creates an airtight seal at the base, and uses vacuum suction to pump up your erection.
What Does a Penis Pump Do?
Enlargement pumps use suction to draw blood into the vessels of the penis, causing it to swell, thus creating an erection.
So, How Does a Penis Pump Work?
Most devices feature a hand-held bulb that you squeeze to remove the air from the pump, thus creating a vacuum. Many come with restriction rings (or cock rings) that are placed at the base of the penis, so the blood doesn't leak back out your erection, so you can stay harder longer.
Do Penis Pumps Work?
Yes! Many doctors recommend them as a non-surgical method to treat ED which is a safe alternative to invasive procedures or medications.
Also known as penis enlargers, these devices can add more girth and length to the penis. Many men worry about penis size and have performance anxiety, so vacuum pumps are a great way to increase size and maintain a hard-on during sex.
Watch: How Does a Penis Pump Work? The Video:
Penis pumps can give you a stronger, bigger erection. Annabelle Knight explains how to use a penis pump and what enlargement results you can expect.
How to Use a Penis Pump?
Follow these tips to learn how to use penis enlargers the correct way safely.
Apply personal lubricant to the base of the penis and cylinder to create an air-tight seal. Shave your pubic hair to create a stronger seal.
Place the cylinder around the shaft of your penis, base firmly against your skin.
Pump up the penis, following the manufacturer's directions, to create suction. It can take anywhere from 30 seconds to 3 minutes to create an erection.
Safety tip: Pump slowly and check in often with how your penis feels. If anything hurts, release the pressure right away.
Once your penis is erect, remove the pump by using the quick release valve mechanism to let out the air so you can safely remove the cylinder.
Safety tip: Never over-pump your penis! There is a limit to how large you can get, so don't force it or you could end up with painful blisters on your penis or worse.
Place the restriction ring at the base of the penis to help maintain your erection. Many pumps add the erection ring at the base of the pump so it can easily slip onto the penis just before you remove the pump.
How to Use a Penis Pump for ED?
Follow the steps above. Read more about erection enhancers here.
ED is a common sexual issue many men face. A recent study[i] found that this issue affects "from 5% in men aged 40 years to 15% in men aged 70 years."
"Erectile dysfunction (ED) is one of the most common chronic diseases affecting men and its prevalence increases with ageing. It is also the most frequently diagnosed sexual dysfunction in the older male population."[ii]
Men who suffer from ED often choose erection pumps because:
They are effective.
They are cheaper than alternative treatments.
They are non-invasion when compared to injections, surgery or medications.
They aid in regaining erectile function after medical procedures such as prostate surgery.
Do Penis Pumps Feel Good?
Yes! They are often used as pleasure devices during foreplay or solo sex. Increased blood flow also increases sensitivity and arousal!
Do Penis Pumps Enlarge Your Penis?
Yes, these devices can add girth and length to your penis for a short period of time.
How Long Does Penis Pump Last?
The effects of pumping your penis (erections and/or enlargement) can last between 10 to 30 minutes. Using a cock ring prolongs the effects even longer.
Do Penis Pumps Give Permanent Results?
This is a common myth. Once the blood is flushed out from the penis it goes back to its normal size again. Pumps do not increase penis size permanently.
How Often to Use a Penis Pump?
It depends. If using it for ED, it is important to follow the manufacturer's instructions unless otherwise advised by your doctor.
Erection pumps are safe to use on a daily basis, even several times a day, if used as directed.
How to Get the Best Results from a Penis Pump?
Use as directed.
Use a cock ring to maintain the erection.
Don't forget the lube.
Don't overuse it to the point of pain or discomfort.
Choose a pump with a quick release valve to remove the pump quickly.
Choose a pump with a pressure gauge to keep the pressure at a safe level.
Is a Penis Pump Dangerous?
Not usually. However, if used the wrong way a vacuum pump can break the blood vessels in the penis, cause pain or bruising, numbness, tingling and discolouration. They can even cause permanent damage to the penis, so, follow directions and never over pump.
Are Penis Pumps Worth It?
Yes! Many men invest in pumps to improve their hard-ons, maintain stamina, create bigger, longer lasting erections and to enjoy more pleasure. Considering the alternatives, they are much less expensive than prescription drugs or other procedures.
What is the Best Penis Pump on the Market?
There are numerous erection pumps available on the market. Let's look at the different types and their benefits.
Different Types of Penis Pumps
When considering the purchase of a vacuum pump, keep these in mind: price, quality, manual or automatic use, effectiveness and safety.
Bulb Pumps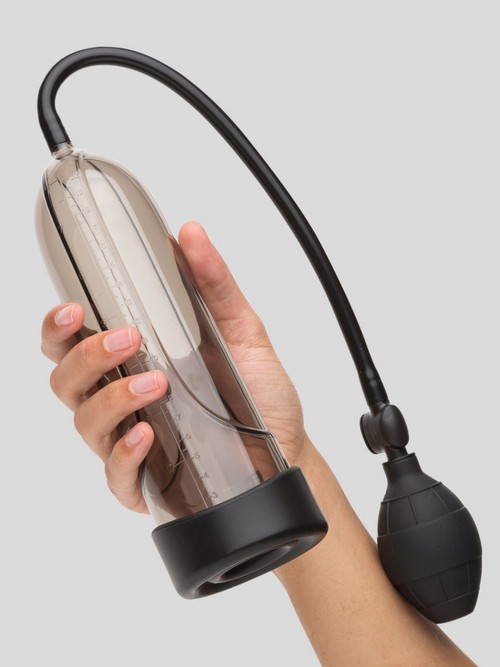 Trigger Pumps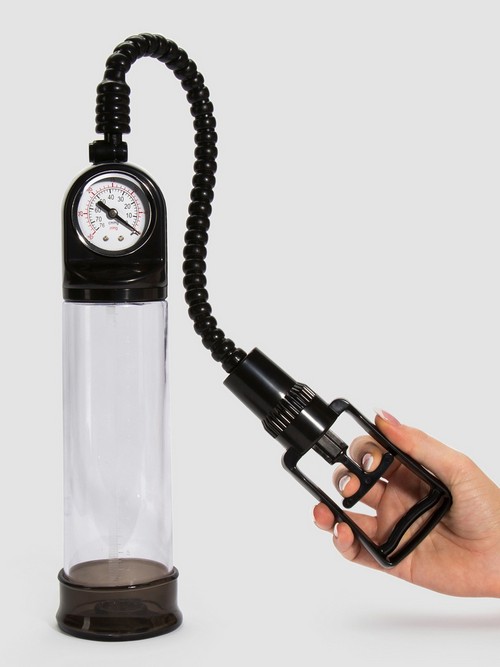 Easier on the hands, these have more precise control, but are still manually operated. They are mid-range priced, and some also come with a pressure gauge.
We recommend the Master Gauge Trigger Controlled Penis Pump.
Water Pumps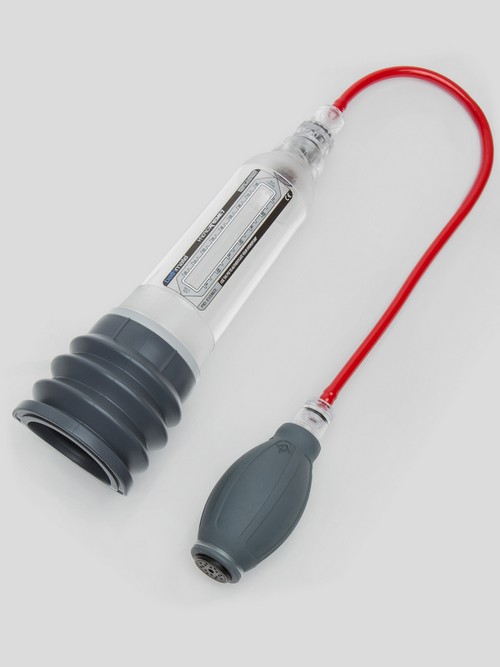 Automated Pumps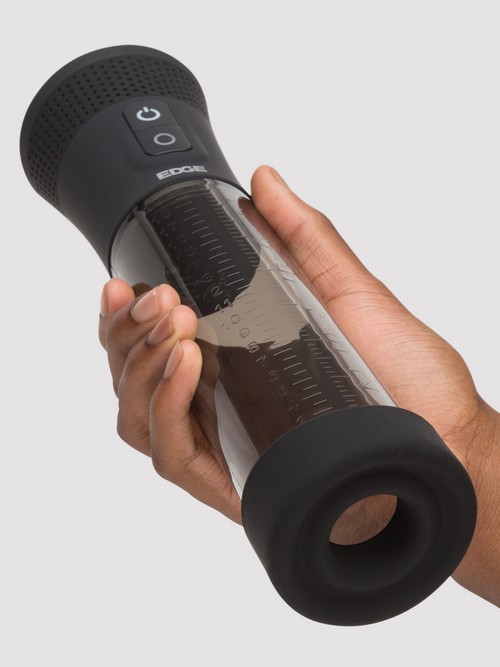 Where to Get a Penis Pump?
If you have ED, your doctor can give you a prescription for a penis pump. However, medically prescribed pumps tend to be much more expensive than the ones you would purchase at an adult toy shop.
Lovehoney has a wide range of penis pumps for all budgets, at affordable prices for various intended uses that are just as effective as medical pumps.
Check them out here!
[i] Pietro Gareri, Alberto Castagna, Davide Francomano, Gregorio Cerminara, and Pasquale De Fazio. Erectile Dysfunction in the Elderly: An Old Widespread Issue with Novel Treatment Perspectives. International Journal of Endocrinology / 2014: https://www.hindawi.com/journals/ije/2014/878670/
[ii] Pietro Gareri, Alberto Castagna,Davide Francomano, Gregorio Cerminara, and Pasquale De Fazio. Erectile Dysfunction in the Elderly: An Old Widespread Issue with Novel Treatment Perspectives. International Journal of Endocrinology / 2014: https://www.hindawi.com/journals/ije/2014/878670/
More Sexual Happiness Advice
You can never know enough about sex, right? Join us on our sexploration journey via the thriving Lovehoney forum, our weekly Sexual Happiness podcast and our blog.