Top 10 Sexy Valentine's Day Gifts for Men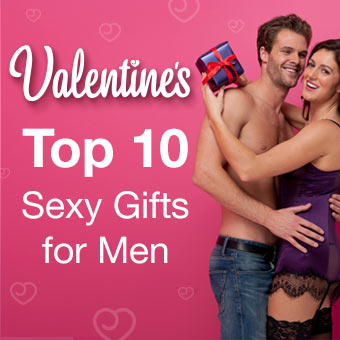 It's easy to get caught up in the frenzy of Valentine's Day cards, stuffed toys and cupcakes, but remember to plan a little something for Valentine's night too.
After all, anyone can get your man socks or a new tie, but you're the only one who can treat him to that sex toy he's had his eye on.
If he's already a toy veteran, then treating him to a luxury male sex toy he can enjoy for years to come is a perfect way to show your love! Whether it's his first toy or his hundredth, he's bound to thank you.
Luckily for you, here at Lovehoney we have an insight on what makes him tick year round, and so we've come up with the 10 best sexy Valentine's Day presents for him.
Delight your partner with one of our thoughtful gifts and create the perfect atmosphere for a romantic Valentine's night you won't forget!
Read on for our favorites, or visit the Valentine's store for even more suggestions:
---
Who said vibrators were just for her? This expertly designed male sex toy pleasures his penis with 5 different vibrating modes.

Made with sleek silicone, the O Force feels amazing when used with a slippery sex lube like the Durex Play Gel Lubricant with Aloe Vera - just apply plenty to the opening and your penis before use.

Best of all, it's even waterproof. A candlelit bubble bath suddenly sounds even more appealing…

"We would recommend this to any man who wants to have a little added extra during foreplay. Ask your partner to use this on you – or give them a treat and use this to show what the O-Force can do for you." - sexytime87, Lovehoney customer


See more Valentine's Gifts for Him
---
Skip the usual Valentine's dinner and movie to stay in and do a fun art project together! This set includes everything you need to make a vibrating replica of his penis - talk about a gift that keeps on giving!

Lovehoney Bonus! Pick this set up in our 3 for $80 offer.

"I was amazed at the finished article. The detail was excellent. Might get a couple more and have an orgy." - oscarbill, Lovehoney customer


See more Fun Gifts for Couples

Looking for a something a bit more realistic than the O Force? A great budget option is the Lovehoney Monica. With a textured canal and realistic opening, Monica provides intense stimulation with each stroke.

Lovehoney Bonus! Grab him plenty of treats: this is in our 3 for $80 deal!

"This is the perfect gift to use as a couple or for own use. I would definitely recommend for realistic play." - Delboy1991, Lovehoney customer


See more Realistic Vaginas

The prostate, often called the male G-spot, is a pleasure zone that many men leave unexplored. Interested in exploring prostate play? The top-rated Helix Syn is a must-have.

Lovehoney Bonus! Enjoy free and discreet delivery at Lovehoney.


"What started as really subtle flutters turn into really strong contractions and then what must be the longest sustained orgasms I have ever had." - Applemango, Lovehoney customer


See more Prostate Massagers
---
On a budget this Valentine's Day? You can't go wrong with a Lovehoney Double Stroker. It's even reversible, so that's pretty much two gifts in one, right?! Slip it on during play and take a hand job into new territory.

Lovehoney Bonus! Choose 3 for $40 and save up to 50%.

"We never used a stroker before but after using this one we count it as an essential piece of kit in our toy box so it really is worth the money!" - rose189, Lovehoney customer


Looking for a very discreet but very sexy gift for someone short of private storage space? This stealthy version of the best-selling realistic vagina in the world is the perfect treat for him.

Lovehoney Bonus! Grab this and two more luxury treats for only $120.

"Unlike the original Fleshlights, the Sex in a Can range might throw people off as to what it's true purpose is - unless they unscrew the lid or read the small print that is." - Sierra Leone, Lovehoney customer


See more Fleshlights

It may come in a small package, but the TENGA egg is a sex toy classic for a reason! Crack open the hard shell to reveal a stretchy, textured pleasure sleeve and hidden tube of lube.

Lovehoney Bonus! Earn 80 Oh! Points when you buy a TENGA egg at Lovehoney.

"It was certainly great used as a couple. The little hearts on the inside combined with some lube provide an excellent sensation, and caused my girlfriend to do a lot of teasing." - Argonaut71, Lovehoney customer

---
For the man who has it all, upgrade his pleasure with this impeccably crafted Japanese stroker. It even comes pre-lubricated to save time!

Lovehoney Bonus! Got $40? Then you can get this and 2 other toys in our 3 for $40 offer.

"It has an amazing texture on the inside, and the amount of lube is awesome. Combined with the suction, it is one hell of an experience. It's easy to hold and use, and looks pretty discreet." - MarvelousMIKE, Lovehoney customer


See more TENGA

A reusable upgrade on the previous item, the TENGA 3D range is ALL about the texture. This one is spiralled, and you can opt for Zen, Module, Polygon or Pile too.

Lovehoney Bonus! Grab a bargain: Choose this and 2 other luxury toys in our 3 for $120 offer!

"A soft but resilient, beautifully sculpted, sex toy that feels great, time after time. I can't get enough of this toy, the orgasm is indescribable" - Jenniz, Lovehoney customer


See more Valentine's Day Gifts


It's our most popular sex toy, and it's now available in chic black. Buy it for Valentine's and get a male attachment for half price. Now, who gets to use it first?

Lovehoney Bonus! Get a half price attachment when you buy a Doxy at Lovehoney.

"I can tell you, there will be a fight between the two of us who will get the benefits of this wand first in the future! An explosive orgasm guaranteed." - john69, Lovehoney customer

See more Fun for Couples
---
Still looking for the perfect Valentine's Day gift?
If you're still looking for a gift for that special someone, take a look at the Lovehoney Valentine's store, where there's a hand-selected range of gifts with something to suit everyone. We've got unmissable deals, so don't forget to check out our bundle offers and the Deal of the Week for great savings on fantastic gifts.
You can Contact Customer Care, who will be happy to help you find the perfect gift. You can email, telephone or live chat to an experienced advisor 24 hours a day, 7 days a week. You can also tweet us at @LovehoneyHelp.
---
---