The Beginners Guide to Urethral Sounding
Stimulate nerve endings you never knew you had with a urethral sound.
Originally a medical procedure, you may have heard of urethral sounding but wondered why anyone would do it for pleasure. However, many people are exploring their bodies in new ways and discovering the arousing sensations associated with urethral play.
At Lovehoney, we encourage you to explore your body fully and get to know what you like but, as always, there are safety measures to consider. This urethral sounding guide shows you how to use a urethral sound as safely as possible.
What is a penis plug?
A penis plug, also known as a urethral sound or penis probe, is a tool used in medicine to dilate the urethra for medical examinations. However, they can also be used for sexual pleasure.
Urethral sounds enable you to explore deeper nerve endings and discover an entirely new sensation. A sound is not designed for prolonged wear but can stimulate areas of the body which are otherwise out of reach.
"In time I was left shuddering and leaking pre-cum everywhere. Orgasm afterwards was so intense." - Jockedandready
Urethral sounds come in many different sizes and styles. Some are extra long for internal prostate and bladder stimulation, while others intensify arousal with vibrations or even electrical stimulation. Lots of men report they've been able to experience hands-free, direct-contact prostate orgasms through urethral penetration.
It's important to do your research and choose the right size probe for your experience level. Using a toy which is too slim or rigid could pierce the urethral wall, while a toy that is too thick could over-stretch your urethra and cause tearing.
What is Urethral Sounding?
Before we dive into how to insert a penis plug, let's take a look at urethral play as a whole.
Urethral sounding is the process of dilating the urethra by inserting a plug or probe (also known as a sound). People do this because, just as the head of the penis is super-sensitive to touch, the urethra is also packed with highly-responsive nerve endings, which feel amazing when stimulated.
"It feels absolutely awesome! Using plenty of lube, either insert it horizontally while standing or let gravity do its thing while laying down. Either is an awesome sensation." - NotAWittyNick
Some urethral toys are designed specifically for stretched sensations, while others are long enough to reach otherwise-untouchable erogenous zones such as the prostate.
Recommended Urethral Sounds
1. Choose wisely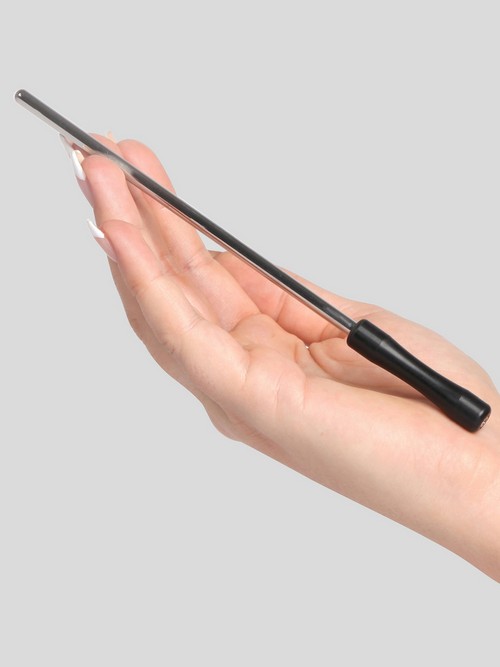 Start with the sound which fits your urethra best, with minimal stretching or resistance.
First-time sounders should choose a flexible, medium-sized sound. Until you're practiced in this play, choosing something too rigid or too slim can increase your risk of puncturing the urethral wall.
"After researching safe, hygienic use of sounds, I lubed up and proceeded. 6mm seems like the perfect size for me, a complete newbie, and as long as I took it slow I caused myself no pain. The sensations were very pleasurable and were increased when I turned it whilst inside me." - Onlywhenisayso
Using a toy that is too thick is just as risky as using one which is too slim. Listen to your body and take it slow while deciding the right size for you.
2. Keep it clean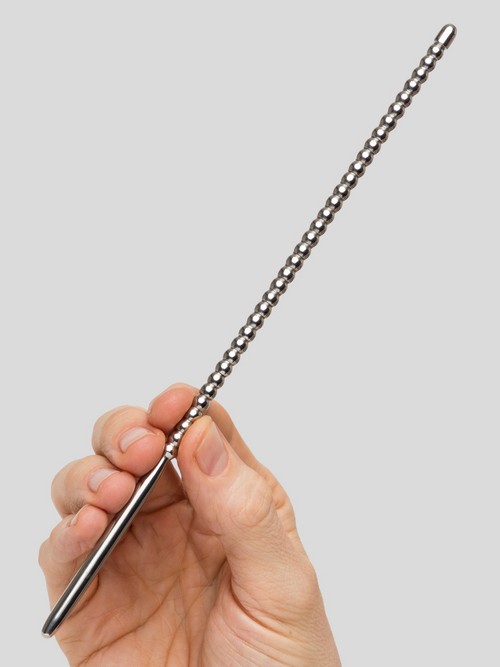 Always ensure that your toys are completely sterile before play to avoid contracting a UTI (Urinary Tract Infection). Toys that are safe to boil (surgical steel and silicone) should be left to simmer for 10 minutes between uses.
Ensure your toy is completely sanitized before play, and make sure you have plenty of sterile lubricant handy.
"So, I boiled the kettle for my morning coffee and also put this toy in boiling water for several minutes and then let it air dry and cool." - Ands67
Clean your hands and genitals before play, and you may even want to use surgical gloves for ultimate cleanliness.
3. Lube up before you get down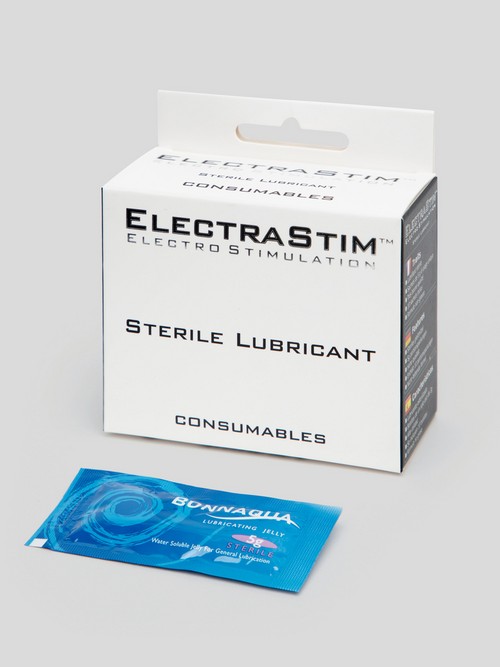 Always use a sterile lubricant to further reduce your risk of getting a UTI. Add a generous squeeze of sterile lube to your penis opening and the first few inches of your toy.
"I was nervous about using it, but that just heightened the excitement. I sterilized it, swabbed my tip with rubbing alcohol and lubed the sound well with sterile lube (from the individual packets)." - LindaT
Remember you should also remove and re-lube whenever necessary.
4. Insert the probe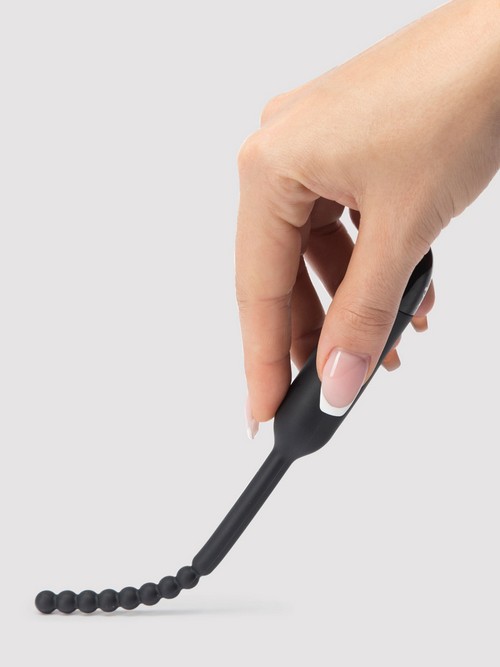 Stabilize the sound with one hand, and place one end of the toy into your penis opening (you may find this easier while flaccid to begin with). Let the sound gradually "fall" into the hole with gravity's help.
"I used the single-use package of sterile lube and lubed it up and let it slide in under its own weight. I pulled it up and let it slide in on its own several times, then added some more lube and let it drop as far as it would. " - Oldman
The sound will reach a point where it naturally stops. Leave it for a while and allow your urethra to relax around your toy. You can now experiment with gently moving it in and out about half an inch.
For deeper exploration, you may need to change the angle of penetration due to the natural bend in your urethra. Anatomically, the opening in the glans is slightly wider than the urethra itself, so never force a toy that's too big into your urethra.
5. Take it slow and keep it safe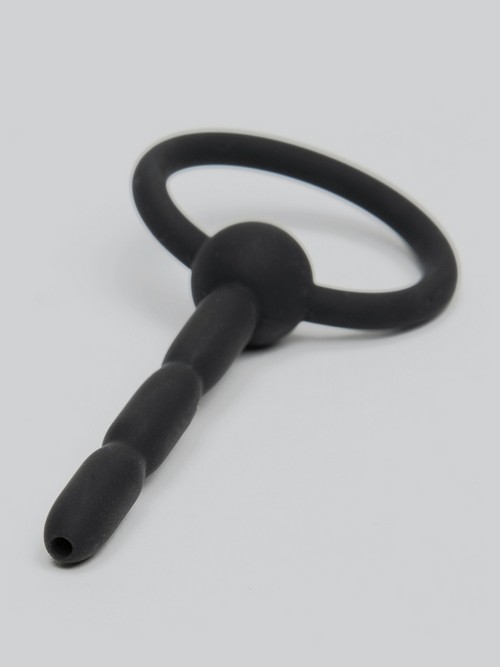 It may take some practice to find the perfect angle of play for you, so take it slow and steady. Never rush. If you feel a sharp pain, stop immediately.
"There's a certain mixed feeling of having your cock penetrated, but at the same time it's a pleasurable sensation that gave me tingles down into my toes. Fully recommend getting relaxed and warm and giving yourself time." - Jockedandready
You may experience some burning during urination for a few hours or a day after play (especially the first few times). This is normal, but you may like to use more lube next time. If these sensations continue for more than a day, seek medical attention.
If you experience unusual discharge, heavy bleeding, fever or cramping, seek medical attention.
More Sexual Happiness Advice
You can never know enough about sex, right? Join us on our sexploration journey via the thriving Lovehoney forum, our weekly Sexual Happiness podcast and our blog.