Free up your hands and embark on mini adventures around your house and beyond with suction cup dildos.
A far cry from a one-trick pony, suction cup dildos can be used in many different ways, locations and scenarios, and come in all shapes, sizes and types.
Now, when it comes to using your suction cup dildo, you could take a 'stick it and see' approach and we're sure you'll do just fine. But why not let our experts and community members give you the low-down on the many ways in which you can use a suction cup dildo?
The list is endless but we've narrowed it down to the absolute best tips and tricks for solo and couples play with a suction cup dildo. Here goes:
What is a Suction Cup Dildo?
A suction cup dildo is a dildo with a suction cup on the base. Shazam! But it is all the hot ways with which you can use these amazing inventions that makes it one of the most exciting sex toys for solo play. Who knew suction cups could be so fun...
Why would you want to use a Suction Cup Dildo?
Suction cup dildos facilitate hands-free penetration, so you can use your hands to stimulate other parts of your body. These popular dildos can be stuck to almost any smooth, flat, hard surface including plastic, metal, tile, or wood. Stick them anywhere: tables, walls, chairs, showers, and floors for a rousing romp of sex around the house.
Recommended Suction Cup Dildos
How to use a Dildo in shower?
The bathroom is the perfect place for wet sex play with your suction cup dildo. The shower wall is both smooth and hard, especially if it is tiled, so is the best way to use a suction cup dildo. For a perfect seal, attach your dildo before filling the tub with water or turning on your shower.
Shower play works well if you are facing away from the wall with the dildo horizontal, bent over for either vagina penetration or backdoor play. It is quite challenging when facing the wall to get into a position that works, unless you have a very long dildo, or you are super flexible.
For safety's sake, you can attach a permanent bathtub handle to the shower wall if you plan on spending a great deal of time with your new suction cup dildo in the shower. Investing in a non-slip rubber mat is a good idea as well.
You can also purchase a water-resistant chair for fun in the bathtub or shower. Stick your dildo to the chair for a more comfortable ride, or use the chair for leverage, by holding onto the back of it while standing. Tub chairs have suction cups on the bottom of the legs to make them sturdy for bathroom play. You could also prop one leg up on the seat to vary your position while standing to get a better angle.
Finally, don't try to stick your dildo to the glass shower door. Glass doors are fragile and can break, especially if you are thrusting against it.
Best Ways to Use a Suction Cup Dildo: 6 Top Tips
1. Always use Lube with a Suction Cup Dildo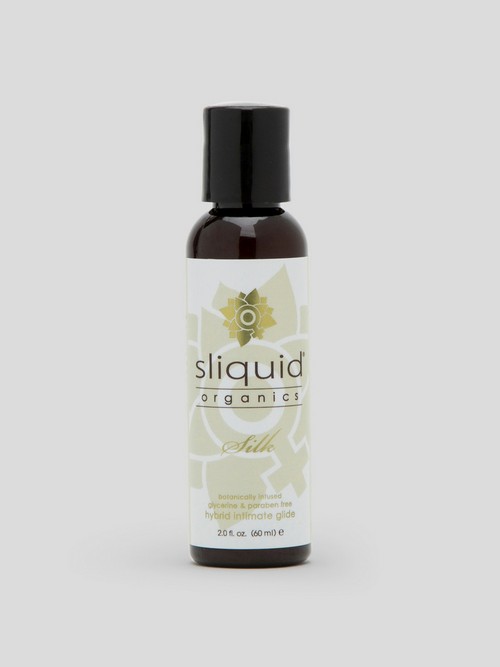 While water is wet, it actually causes friction during sex, so use a sexual lubricant during your bath time play for a slippery, pleasurable encounter with your stuck-tastic friend.
A hybrid lube (water and silicone-based) is compatible with most suction cup dildo materials, and will not wash off like a water-based lube will.
One concers about shower sex is that lube or soap makes it slippery. With this in mind, it's a great idea to consider a non-slip rubber mat.
Best Lubes & Toy Cleaners
2. Stick the Suction Cup Dildo somewhere wet: Bath or Shower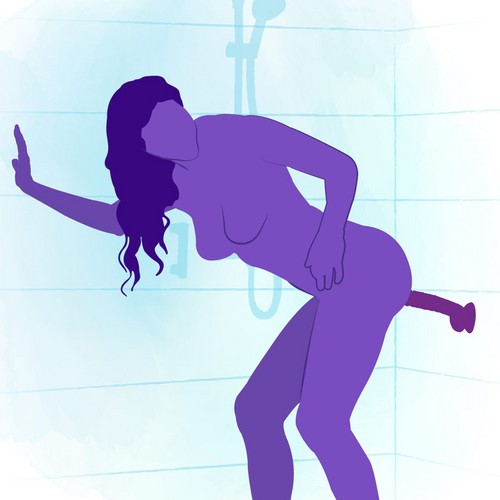 The side of a bathtub means you can straddle the dildo (as you would a partner) by sticking the suction cup dildo to the side of the tub and lowering yourself down onto it to ease into your rhythm. The toilet seat gets a firm thumbs up from our community members as it provides a good height and sturdy base for your bouncing endeavours.
"This is our first suction cup toy and has had a trip to the shower almost every day since, by one of us, myself and the wife." - Trine, Lovehoney customer and forum member.
If the added dimension of warm water running over your body as you pleasure yourself ticks all the boxes, stick your friend to the shower tiles at a height that's right for you and ride away to your heart's content. If the shower head ends up providing extra stimulation, then life just gets better and better.
3. Stick the suction cup dildo somewhere firm: Table, wall or floor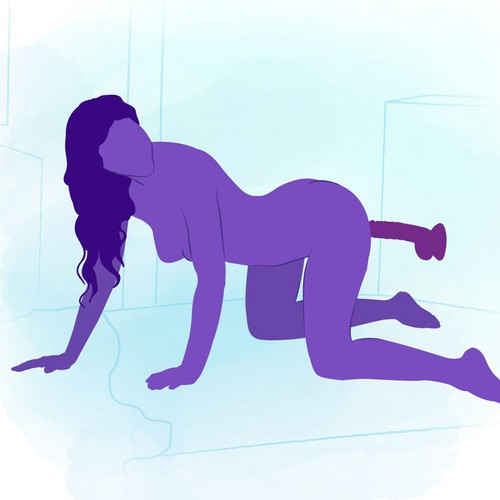 A sturdy, smooth, flat surface is a must for your suction cup dildo, and then you're away! Wooden or tiled floors or walls are the most tried and trusted options, opening up your play to a number of locations in the house.
If you are fortunate enough to have access to a massage table, they can also make excellent bases for your suction cup dildo play as they are designed to be able to take the weight of most adults. We would advise you to lower it to its lowest level for safety.
A nightstand or coffee table is another great option, as they are usually the perfect height to cavort upon with your new lover.
4. Stick the suction cup dildo somewhere reflective: Mirror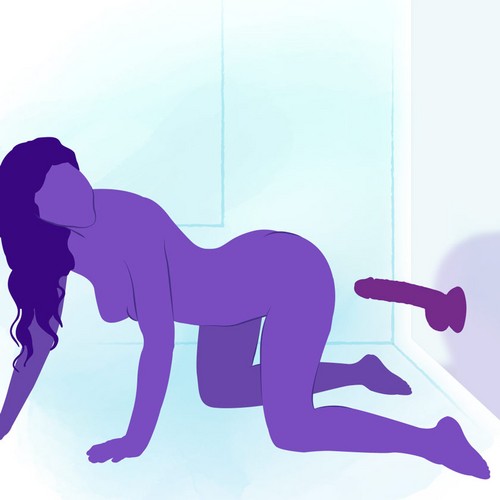 Mirrors provide the perfect surface to attach your dildo to, and give you the added bonus of a fantastic view.
"The headboard, a dining room chair, the kitchen work top and most kinky of all, the mirror, are just a few places I have used this! I love this toy, I especially use it when my husband is away as it's so lifelike." - Horny Hairdresser, Lovehoney customer and forum member.
Watch yourself ride up and down on your dildo by attaching it to a mirror on the floor. If you have a wall mirror that has a stable mount, doggy style with some added eye candy (for you and your partner) is sure to give you added visual stimulation.
5. Strap in for a good time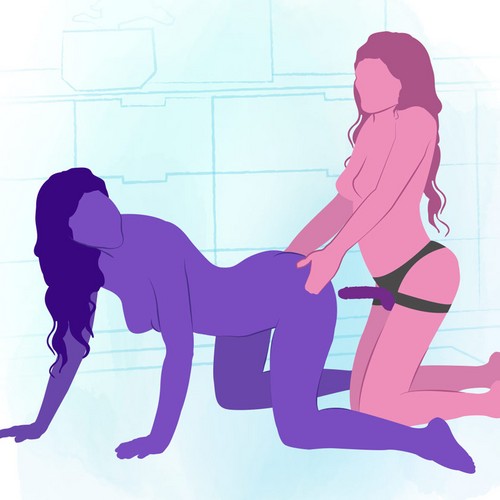 Ever-versatile, most suction cup dildos can be teamed with a variety of strap-on harnesses, creating lots of exciting play options for you and your partner.
"I needed a strap-on compatible dildo that wasn't overly realistic, wasn't too thin or small, had a reasonable price tag, and was a realistic (but filling) size. This is the answer." - PrfsrChaos, Lovehoney customer and forum member.
Strapping on a dildo leads the way towards vaginal and anal penetration that may have been difficult to achieve without a toy, whether or not you're a couple that has a naturally-occurring penis. Check out our collection of Strap-On Harnesses and Kits for further inspiration.
6. Add a third when using a suction cup dildo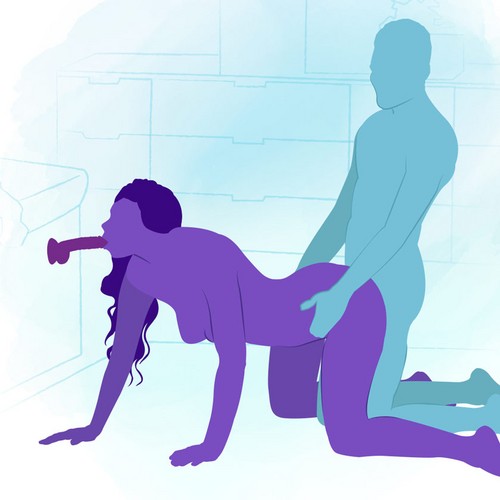 If the idea of a threesome gets you hot and flustered but the reality of another person joining you has been poo-pooed by your partner, a suction cup dildo is a great alternative.
"I ordered this for my fiancée to play out our MMF fantasy. It doesn't disappoint. Seeing that slide into her and watching her face is something magical." - LPMG, Lovehoney customer and forum member.
Stick it to wherever you please and ride your silicone lover in the threesome simulation, or perform oral on it while your partner penetrates you from behind (aka a 'spitroast'). These are just a couple of suggestions, but take full advantage of experimenting with your extra erect penis in the room.
Interested in this topic?
Sign Up for our newsletter to receive expert advice, sale alerts, and exclusive offers straight to your inbox. Plus, receive 15% off your first order.
Surfaces to Avoid when using a Suction Cup Dildo
Avoid any furniture that isn't sturdy enough to hold both you and your ambitious thrusting, or that isn't firmly mounted to the floor or wall.
Uneven surfaces won't work either, such as wainscotting, cracks between tiles, stucco walls and some wooden surfaces. The suction needs a smooth surface.
Please avoid breakable surfaces like a thin mirror, glass window or door, glass coffee table, or anything that could shatter. May seem like a cool idea at the time, but you'll thank me later for not going there.
Soft Areas eg. Carpets
Any surface that is soft or swishy, like a mattress, pillow, carpet, the arm of your couch, or beanbag chair is probably not going to work well either. That also includes your big plushie toy too—sorry!
Suction Cup Dildo Positions: Best Ways to Ride Solo (or with a partner)
There are lots of delicious sex positions to be indulged in with your faux suction penis. We've put together 10 of the most titillating to ignite your libido and imagination below.
1. Doggy Style
Dildo Position: Horizontal
Doggy style is a favourite with fans of suction cup toys - simply attach it to a wall or headboard and back onto it. Tailor the height to your liking and control the angle, depth and speed at which you enjoy your dildo.
Add a soft comforter under your knees to avoid rug burn, or try a pillow to support your chest if you want to get lower to the ground. A Liberator Position Enhancer under your waist will raise your butt up higher so you can get a better angle for G-spot bliss.
Expert Tip: To get the perfect placement of your dildo, insert the head into your vagina or anus first then ease back against the wall doggy style to position it. Once placed, you can adjust it better, making sure it is secured before enjoying the ride from behind.
2. Queening
Dildo Position: Vertical
This position gets its name from the exciting sexual activity also known as facesitting. Except, instead of a face you will be riding your eager dildo lover instead.
Queening is sure to improve your dick-riding skills and strengthen your thighs and booty to boot. Stick your dildo to a clean smooth floor and either squat or kneel on it. To squat you need strong legs and good knees, so kneeling may work better for some people.
Expert Tip: For more comfort, attach the dildo to an upside-down sturdy steel mixing bowl to create more height so you don't need to squat so low and save your thighs the extra work. Add a vibrator that mimics oral sex for dual stimulation and amazing pleasure - or add a sex pillow that has a sex toy mount.
3. Open Pike Position
Dildo Position: Horizontal
Open Pike position is standing with your back to the wall and your torso forward so it is horizontal with the floor. A chair can be your best friend in this situation, so you can hold on to it as you lean forward for better balance.
Expert Tip: Try a double dildo with a suction cup base or two suction cup dildos positioned one on top of the other, for double penetration of your vagina and booty at the same time for exquisite fullness and combination orgasms. It may take a bit of skilful alignment to get it just right, but it's worth the try.
4. Rock and Roll Bar Stool
Dildo Position: Vertical
This position requires a bar stool near a kitchen countertop. Position yourself facing the countertop and lean forward to brace yourself for deeper penetration. The ideal chair will have a flat surface like plastic, metal or wood. Make sure the chair is sturdy to begin with as well, because you don't want to 'bust a move' and break the chair.
Expert Tip: Use a swivel bar stool and ride it while moving your hips from side to side for a rock and roll dildo ride.
5. The Swing Ding
Dildo Position: Horizontal
Using a door behind you can be a great way to play with your new little sex buddy. First, stick your dildo on the edge of a door, position the dildo just right with the tip inside you, then use the door knob to swing the door for a backdoor banging, instead of thrusting yourself against it.
You can stabilise yourself with one hand whilst reaching round with the other to open and shut the door as fast as you like.
Expert Tip: Tie a rope around the door knob so you can pull the door more easily to build a perfect rhythm.
6. Playing Secretary
Dildo Position: Vertical
Fancy getting off on your bosses' desk? Create a make-believe scenario as you mount yourself on a durable desk with your feet positioned on a secure chair below.
Expert Tip: Let your partner watch as you roleplay scenes from the movie "Secretary" to fulfill your submissive fantasies. PS: Don't really have sex on your boss's desk! Use your own.
7. Sex Around the House
Dildo Position: Vertical
Try using a variety of flat portable surfaces to mount your toy to, for sex all around the house. Experiment with Tupperware storage containers, metal mixing bowls, marble cutting boards, or metal cookie sheets to transform any comfy surface you like.
Expert Tip: Transform the edge of your couch with a metal cookie sheet, dildo attached, for a steamy night of Netflix and chill.
Other Suction Cup Dildo Ideas
Oral Delights
While your new little friend is great at giving you pleasure, don't forget to return the favor and practice your expert blow job techniques on it. It may sound weird to suck off an inanimate object, but I had a friend who did this all the time, and she was excellent at giving head and deep-throating. Simply stick your dildo to a wall about waist height, and get down on it with your sexy sucking skills. You'll become a pro in no time.
Expert Tip: Use a blindfold and let your imagination run wild as you fantasize about getting your lover off.
FAQs and Safety Precautions when using suction cup dildos
As with any physical activity, take precaution to not overdo it. Some positions can be challenging and may leave you with a sore back, cramped legs, or sprained ankle.
Always use a lube on any dildo as they can be drying and you don't want any friction or chafing.
Only use your dildo on very sturdy surfaces, or objects that are firmly mounted to the floor or braced against a wall.
Don't mix anal and vaginal use with your toy without cleaning it thoroughly in between switching holes. Going from your poop shoot to vag is a no-no, as harmful bacteria can lead to a nasty infection inside your precious lady bits.
Care and Cleaning Tips
Caring for your new Bae is important to keep it in good shape. Most dildos these days are very well made and could last a lifetime if properly cared for.
To keep things squeaky clean, I recommend a post-playtime tip: wash with a sex toy cleaner, wet wipes, or mild soap and water..
To keep the toy lint and dust-free, so it doesn't lose its stick-ability, read our sex toy cleaning guide here.
For storage you can keep your new toy in its original box or a plastic zip-lock bag to keep it clean and dust-free. Store in a cool place away from heat sources. Remember to not store your dildo or any sex toy until it's completely dry.
Frequently Asked Questions
Need a little more advice? No problem. We've answered your FAQs below.
My suction cup dildo won't stick! What should I do?
Try using a small dab of water-based lube to the suction base to create a better seal. If that doesn't work, be sure to clean the wall and suction cup of any dirt or debris, or try a smoother surface.
Yikes! My dildo won't unstick?
No worries lover. Get a thin credit card and slip it under the edge of the suction cup base and peel it up. Once the air is sucked in the dildo will pop right off.
Takeaway
There are so many hot ways to use a suction cup dildo to create body shaking orgasms, I could go on and on. Expand your orgasm potential by experimenting with different variations and ideas until you find your favs.
The more you practice the better you will get, which means more pleasurable moments that take you to your happy place.
Happy Orgasms!
More Sexual Happiness Advice
You can never know enough about sex, right? Why not join us on our sexploration journey? Stay up to date with the latest advice on our blog, the Lovehoney forum and the weekly Sexual Happiness podcast.